White Noise, "Firebird"
Suitably trippy, acid-drenched video presumably supplied by the person who posted this to YouTube, who goes by the handle "psychedelatrip".
The White Noise album An Electric Storm is a true slice of 1960s psychedelia, and to be honest, I find it more interesting than good. Most of the singers don't seem to be able to carry a tune by the handle, and the heavy breathing on "My Game of Loving" is, as such things often are, hilarious instead of sexy. Still, it's a fun artifact of its era, and you can amuse yourself trying to pick out Derbyshire and Hodgson's work in the tracks. It's also helpful to remember that, in some contrast to the ur-hipster image you might get from the famous photo of her, Delia Derbyshire was very much part of the 1960s counterculture. (And apparently she was quite a dresser—various anecdotes mention her floppy hats, capes, tailored suits, etc.) "Firebird" was the second White Noise song to be recorded, and was co-written by Derbyshire.
Here's an undated review of White Noise's An Electric Storm.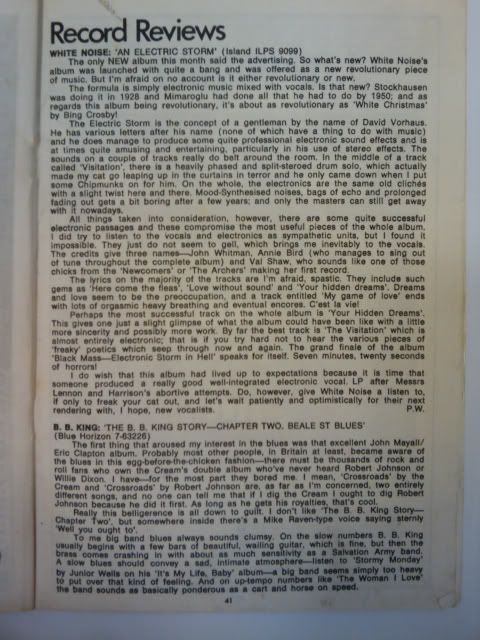 Once again, the radiophonic contributions go uncredited, though they are acknowledged as the album's strength. I can verify that it does indeed "freak your cat out". You'd think by now mine would be used to every possible electronic sound that comes out of the speakers in the house. You'd be wrong.
References:
An Electric Storm, White Noise. Island Records, 1969. 1992 liner notes by Kemi Kally.